Satellite systems > Portable manual systems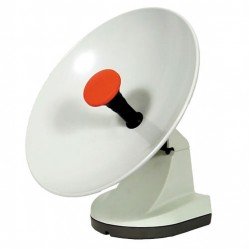 This is the low cost way of getting satellite TV in your motorhome or caravan. A portable dish also has the advantage of being easy to move if you find a tree or other obstacle blocking the signal from the satellite.
The dish that we recommend is the Multimo which has many advantages over other manually operated dishes. In particular, the Multimo doesn't need a tripod which makes setting it up quick and easy. So easy in fact that, once you've had a bit of practice, you'll be able to locate the satellite within literally a matter of seconds.
The Multimo comes complete with 10M of co-ax cable and instructions. All you need to do is get a satfinder and connect the dish to a receiver or a TV with a built-in satellite receiver.
The Multimo is ruggedly built and highly resistant to water. We don't recommend it but we do know of instances where they have been dropped into canals with no adverse consequences!
Note: We can no longer supply bags, magnets, suction mounts or any other accessories for the Multimo.
Sorry, no products have been found
Sign up to our newsletter