12V / 24V Products > Smart-Trailer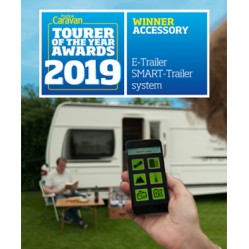 Smart-Trailer is the smartphone app for a safe and comfortable journey with your caravan or motorhome. Designed in Holland, specifically for caravans and motorhomes, Smart-Trailer is simple to use, easy to install and makes life easier and safer both when you're travelling and when you're on site. It can be used with any caravan or motorhome, no matter what age or model.
The Base Station is the heart of the system and includes a levelling function (E-Level). Installation is simple, requiring just a simple connection to the leisure battery. After installation, getting your caravan or motorhome precisely level on site will be quicker and easier than ever before, using your smartphone as a guide. Additional modules are available which all connect to the Base Station and, from there, to your phone. Modules include:
Tyre pressure module (E-Pressure): this enables you to keep an eye on the tyre pressures on your caravan.

Battery monitor module (E-Volt): monitors your caravan's leisure battery and alerts you when the voltage drops.

Switch module (E-Switch): before you set off, E-Switch warns you if doors or windows have been left open.

Temperature module (E-Temperature): constantly monitors the temperature in your fridge or in the caravan - depending on where you place the sensor.
Smart-Trailer is also available in money-saving packages: a "Comfort Pack" and a "Safety Pack". The Comfort Pack includes the Base Station + five modules: E-Level, E-Temperature, E-Switch, E-Pressure and E-Volt. The "Safety Pack" comes with the Base Station, E-Level, E-Pressure and E-Switch.
We asked Simon Barlow from the popular caravan blog Caravan Chronicles to have a look and tell us what he thought. You can find out by clicking here.
Recent Reviews
Smart-Trailer Base Station (E-Connect)
Every time we hitch up it (SMART-Trailer) has become the "go to" thing to check.... caravan secure, fridge temp, tyre pressure, battery charging. All so easy to check. Again, if we stop enroute, a quick tap and I can check everything is ok. Handy too as I can let Sue know her wine is suitably chilled for the post pitch drinks!
Sign up to our newsletter