12V / 24V Power & Distribution > EZA lithium power-packs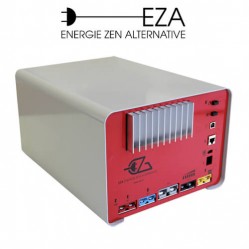 All your 12V problems solved!
Designed in France, the EZA 12V Lithium power-pack system is the ultimate power source for anyone who relies on 12 volts when living in a vehicle or boat. An EZA system has none of the disadvantages associated with lead-acid batteries, providing reliable 12V power whenever it's needed. It simply replaces the existing batteries, it won't require maintenance and, even if 50 Amps is used every single day, it should last for well over 20 years.
The batteries used in EZA power-packs are LiFePO4 (Lithium Iron Phosphate) and are the safest type of lithium batteries. They will not overheat and, even when punctured, do not catch fire.
For more information, click on the links below or watch the video to find out what an actual user thinks of his EZA lithium power-pack.
And, here's an interesting post from the blog of Chris and Anne Tossell who spend a lot of time travelling wide and far in their RS motorhome.