Solar power > NDS Aero Solar Panel Kits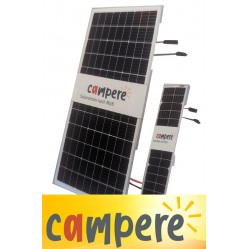 Our NDS solar panel kits give you everything necessary for a good looking and efficient solar installation. The panels are made with high quality mono-crystalline cells which are securely mounted in a heavy-duty aluminum frame.
At each end of the frame is a brushed-aluminium aerodynamic mount which helps to reduce wind noise and reduces the amount of rubbish and dirt which can collect underneath the panel. The mounts can be fixed to the vehicle's roof using an adhesive such as Dekalin MS-2 but we always recommend using screws as well.
Included in the kit are:
1 x NDS "Aero" solar panel
1 x Set of 5M MC4 cables
Either 1 x suitably rated dual output regulator or 1 x suitably rated dual output regulator with MPPT
1 x waterproof cable entry box
If you would prefer a specific regulator (see regulators), please select and order individual components.
Recent Reviews
NDS 100W Aero Solar Panel Kit: Dual Output
I had a 100w solar panel with dual battery controller installed on my Fiat Ducato campervan, in Spring '19. The installation is very neat, with all internal wiring concealed, which I was pleased about, and externally, the aerodynamic mounting brackets create a very smart appearance. Everything has been working fine, and I'm very happy, so far.
NDS 140W Aero Solar Panel Kit: Dual Output
Damian fitted an NDS 140W solar panel, controller and monitor together with a 600W NDS inverter. Very pleased with both the quality of the products and the workmanship - particularly as fitting the inverter proved to be harder than we had initially envisaged. Andy Brining
Sign up to our newsletter