12V / 24V Power & Distribution > 12V lithium batteries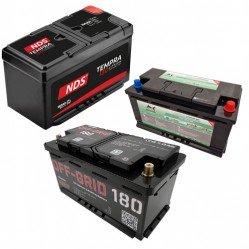 LiFePO4 lithium batteries are becoming more and more popular for anyone who relies on batteries to run the appliances in a motorhome, caravan, special vehicle or boat. The reason is that these batteries have virtually none of the disadvantages of traditional lead-acid batteries:
Fast charging - 50 Amps - 100 Amps+ depending on model and installation method
Safe fast discharging, making them ideal for use with inverters
Can be discharged by 95% without adverse effects
No significant drop-off in voltage even when battery is heavily discharged
Low self-discharge rate - varies according to model and temperature but 3% - 10% on average
2,000 - 4,000 estimated cycles depending on depth of discharge and model
Low weight - approx. 50% of an equivalent lead-acid battery with similar Ah rating
No maintenance
Completely safe - no toxic fumes, corrosive liquids or fire risk
Can be mounted horizontally or vertically
IMPORTANT!! Installation of any LiFePO4 lithium battery is possible in most vehicles and boats that use lead-acid leisure / auxiliary batteries. However, if the battery is to work efficiently and safely for its estimated lifetime, it's essential that it is installed correctly. This means that the charging voltages of the alternator, the mains charger and a solar panel - if fitted - are appropriate for the battery (Must have a Lithium/LiFePO4 setting). If they are not, the battery can be quickly damaged.
If the vehicle is fitted with a "smart alternator", it will be necessary to fit a suitable battery to battery (DC-DC) charger as well.
You can read all about lithium batteries and how they can change they way you use your vehicle or boat by clicking here.
Or, read it or download it as a PDF by clicking on the PDF icon below.
Sign up to our newsletter