Specialist Products for Vehicles & Boats > Ventilation equipment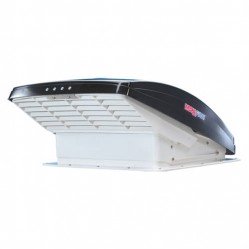 Even during summer in the British Isles, things can get hot and stuffy in a caravan or motorhome. Unless it's a really exceptional summer though, air conditioning may be not strictly necessary. A good ventilation system can make a big difference and we have some products in our rage which can make all the diference between a good night's sleep and one that's just too warm for comfort.
There are many ventilation products available but the one that we think is by far the best is the MaxxFan. Made in America by the same company that produces Coleman air conditioning systems, the MaxxFan is effective in all weathers and in any motorhome or caravan. It can also be used on boats.
Sign up to our newsletter