Protective screens and covers > Isoplair Windscreen Covers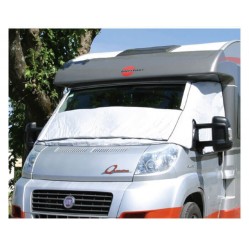 Soplair's Isoplair screens are made using ten layers of insulating material and will help to keep you comfortable both when the temperature drops way below zero or just keeps climbing during a hot Continental summer. The Isoplair has a panel which can be opened during the day to allow the light in.
Isoplair screens are designed to be quick and easy to fit. There are pockets on each side which slide onto the doors and elastic straps are supplied which hold the flaps down beneath the wing mirrors. In the case of "A"-class motorhomes, stainless-steel screw fixings are supplied which hold the screen in place on the side with no door.
If you have an "A" Class motorhome, Soplair will make an Isoplair cover for you. These screens are made to order and take around 3 weeks to deliver from date of order. To make sure you get exactly the right screen, please contact us by clicking here.
Isoplair screens are available for the following vehicles:
Ducato / Boxer / Relay from 1994 - 2006
Ducato / Boxer / Relay since 2006
Ford Transit from 1994 - 2014
Ford Transit since 2014
Mercedes Sprinter from 1995 - 2006
Mercedes Sprinter since 2006
Renault Master from 1998 - 2010
Renault Master since 2010
Iveco Daily from 2000 - 2006
Iveco Daily since 2006
Sign up to our newsletter