Protective screens and covers > Protective covers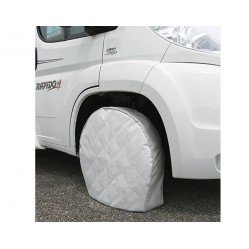 People sometimes ask us why they would want to put protective covers on their motorhome's wheels, skylights or wing mirrors.
Tyre covers: UV light can seriously affect tyres, leading to cracking and premature aging. When parking up in southern Europe for long periods of time, tyre covers can be a very worthwhile investment.
Mirror covers: If you use your motorhome during the winter months, you'll know that scraping ice off the mirrors can be a very tedious job. Wrap them up in thermal covers and you probably won't have to.
Skylight covers: You'd be amazed how much heat can escape through a Heki. Putting a Soplair cover over it can make a noticeable difference to the temperature inside your motorhome.
Engine covers: These make a lot of sense when your motorhome is exposed to freezing nights up in the mountains. The thick insulation will help stop the heat of the engine escaping and will make it easier to start when the time comes to move on.
Sign up to our newsletter