Protective screens and covers > Thermocover Windscreen Covers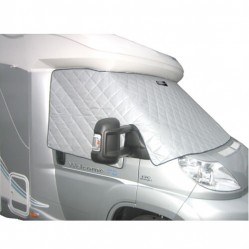 If you spend most of your time in the UK and avoid extremes of heat or cold, a Soplair Thermocover will probably do the job. It's made using six layers of cross-laid insulation and, like the Isoplair, will not just reduce condensation on the inside of the windscreen but eliminate it entirely.
Thermocover screens are designed to be quick and easy to fit. There are pockets on each side which slide onto the doors and elastic straps are supplied which hold the flaps down beneath the wing mirrors.
Thermocovers are available for the following vehicles:
Ducato / Boxer / Relay from 1994 - 2006
Ducato / Boxer / Relay since 2006
Ford Transit from 1994 - 2014
Ford Transit since 2014
Mercedes Sprinter from 1995 - 2006
Mercedes Sprinter since 2006
Renault Master from 1998 - 2010
Renault Master since 2010
Iveco Daily from 2000 - 2006
Iveco Daily since 2006
VW T5 / T6
Sign up to our newsletter