Specialist Products for Vehicles & Boats > BR-Systems Electric Bike Lift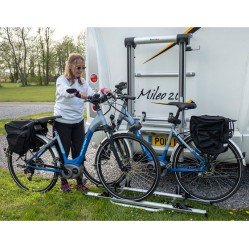 As bikes get heavier - especially electric bikes - many people find that it gets more and more difficult to mount their bikes onto a typical motorhome bike rack. Some people find it impossible! If you've got an electric bike, we may just have the solution: the BR Bike Lift.
The BR Bike Lift is the only bike rack on the market that enables you to safely mount your electric bike without having to lift it up in the air. The Bike Lift has a powerful electric motor which brings the mounting rails down to just a few inches off the ground. When the bikes are on board, press a button and up they go, to a safe and secure height on the back of the motorhome.
You can see just how the system works in the video below.
For more information on the BR Bike Lift, please click here and send us a message.