Specialist Products for Vehicles & Boats > Bike racks and carriers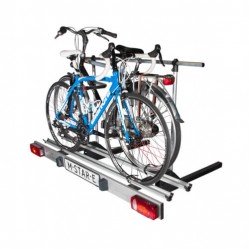 Road Pro stocks and supplies bike carriers for motorhomes and camper vans from Dutch company MEMO. We consider these to be amongst the best products of their kind available: easy to use and very well made from durable, rugged materials.
Our cycle carriers for motorhomes are chassis mounted, making them strong and easy to use. Because bicycles are carried at approximately knee-height, it's much easier to secure and remove them than it would be using other types of rack.
Recent Reviews
BR 12V Bike Lift
Roadpro expertly fitted our BR Bike Lift almost 2 years ago and we have been absolutely delighted with it. Carrying two (23kg) eBikes, this lift has lived up to all expectations - ease of use, removing the physical aspect of loading and unloading and avoiding the requirement for a light/reg plate bar. Much interest and admiration has been received from fellow motorhomers when they have seen the unit in action! Can highly recommend this item.
BR 12V Bike Lift
BR Bike Lift chosen for ease of use and quality of product, with added benefit that no light bar is required. Selected appropriate Inverter after RoadPro guidance. We have had minimal usage to date to establish satisfaction but signs are good so far.
Excellent quality and competency with installation; very clean, tidy and respectful of our property. Damian even corrected some dubious wiring carried out by our selling dealer!
We were highly delighted with the lead-in time, service, advice and installation. Wouldn't hesitate to recommend to friends.
Sign up to our newsletter