Specialist Products for Vehicles & Boats > Air suspension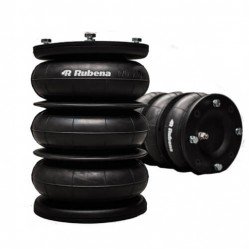 Rubena is one of the leading manufacturers of air suspension components in Europe and their products are of very high quality. So, when you have a semi-air suspension kit fitted to your van or motorhome, you'll immediately notice the benefits that such a system can give.
The vehicle will be more stable, won't roll as much when cornering (it's especially noticeable when negotiating roundabouts), won't sag as much if you have a load that's a little off-balance and you can expect a smoother ride as well.
In fact, the advantages are so great and so noticeable that, when you have a system installed, you'll wonder why you waited so long to get the job done.
Sorry, no products have been found