Gas Products & Fuel Cells > Kipor Generators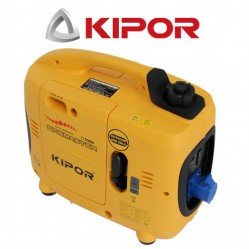 After a lot of research, we think we've found a range of generators that gives the quality that our customers want at a sensible price. With three models, Kipor portable generators are ideal for boaters, caravanners, motorhomers and anyone who needs a reliable, easy to use generator that's quiet enough not to cause problems in use.
Kipor Sinemaster generators are designed to deliver stable, pure sine wave AC output that's reliable enough to power even sensitive electronic equipment. Efficient engines ensure good fuel economy, reliable performance and a remarkably low noise level that's as good as or even better than other, much more expensive, similar-sized generators. "Smart throttle" technology automatically adjusts the engine speed which helps to reduce both noise and fuel consumption.
Tough, resilient cases protect the working parts and rubber feet provide a sturdy platform and also help to reduce vibration. Big handles and light weight make the generators easy to move around and, being as compact as it's possible to get, stowing them isn't difficult either.
Outputs range from 1kW to 2.6Kw. Which one you should choose depends on what appliances you want to run. See our website for advice on how to work out the most suitable model for your needs. All models run on unleaded petrol and come with sturdy "caravan-type" connectors which can be used with a standard mains hook-up cable. Of course, you can also use a generator at home so that, should there be a power cut, you don't need to be completely cut off from 230V.
Sorry, no products have been found