LPG Equipment > Efoy Fuel cells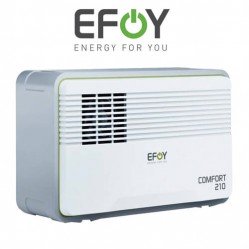 For convenient, efficient, clean and environmentally friendly 12V power generation, EFOY fuel cells are an excellent choice. They use methanol in a catalytic process which ensures that a vehicle's 12V battery bank is constantly kept topped up automatically.
Available in three sizes to suit different usage requirements, all EFOY models continuously monitor a battery's voltage. When the voltage drops below a certain level, the EFOY unit switches on and starts to charge the battery. Unlike a generator, EFOY fuel cells make virtually no noise and produce no fumes; you won't even know that it's operating apart from the fact that your 12V appliances will just carry on running as if you were hooked up to the mains, even when you're miles from anywhere.

An EFOY fuel cell can be especially useful when used in conjunction with an inverter, enabling 230V appliances to be used without having to worry so much about the drain on the batteries. In order to work out which model will best suit your requirements, you'll need to calculate how much battery power you're likely to use.
Click here to get to Efoy's "Energy Calculator". This will help you work out how much energy you use and the most suitable Efoy model for your needs.
Sorry, no products have been found
Sign up to our newsletter