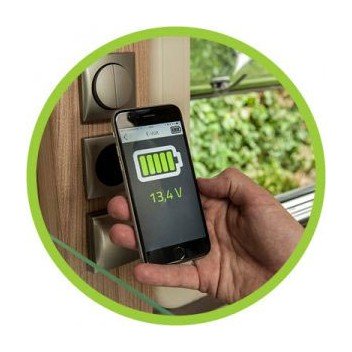 E-Trailer Battery Module (E-Volt)
D8323
Description
Do you know the state of your caravan's or motorhome's leisure battery? Do you worry about running low on 12V power? SMART-Trailer's E-Volt makes it easy to check the voltage of the battery and the state of charge. What's more, you can set the app so that you receive a warning on your phone in case the battery voltage gets low.
E-Volt can be set to work with any type of lead-acid battery and LiFePO4 lithium batteries as well.
NOTE: You must have the Base Station (E-Connect) installed before you can use this or any E-Trailer module.
Also: The E-Volt sensor is built into the Base Station and the E-Volt box only contains a QR code. When this is activated using the E-Trailer app, the E-Volt sensor is automatically activated.
More Information
Specifications
| | |
| --- | --- |
| PRODUCT CODE: | D8323 |
| Manufacturers Product code: | E-VOLT |
| MANUFACTURER: | E-TRAILER |
| Operating voltage: | 11V-16V |
| Item in Kg: | 0.085 |
| Warranty period: | 2 years |
| weight: | 0.090 |
Sign up to our newsletter