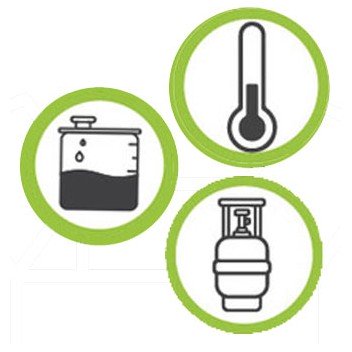 E-Trailer "Comfort Pack": Kit
D8331
Description
The SMART-Trailer "Comfort Pack" contains the following modules and are supplied, all at a discounted price::
E-Temperature: Alerts you if the temperature of your fridge or caravan drops below or goes above the point that you set.
E-Gaslevel: Let's you see exactly how much LPG is left in your cylinder. Works with all metal cylinders.
E-Waterlevel: Shows you precisely how much water is left in the tank.
Additional modules can be added when they become available.
Please note this requires the purchase of the E - Trailer base station which is sold separately.
Specifications
| | |
| --- | --- |
| PRODUCT CODE: | D8331 |
| Manufacturers Product code: | COMFORT PACK |
| MANUFACTURER: | E-TRAILER |
| Item in Kg: | 0.900 |
| Warranty period: | 2 years |
| weight: | 0.900 |
What's in the box
1 x E-Temperature, 1 x E-Gaslevel, 1 x E-Waterlevel
Customer Questions
Asked by Andrew
Hi, I am interested in your product but I have noticed the cost of the Comfort pack is £1 dearer than buying the base unit and modules separately, is this correct or am I missing something. Also I am interested in the full package but I Have two sunroofs in my van so Ideally would need 4 or more e-switches, what is the best price you could do this for me. Best regards Andy
Answered by Andrew Harris at RoadPro
on September 09th, 2018
Hello again Andy. The price has been corrected and you now get approx. 10% off the bundle price. In addition, if you order 3 extra e-switches, we'll send you another one F.O.C. How's that? Any questions, please email me: sales@roadpro.co.uk. Andy
---
Sign up to our newsletter