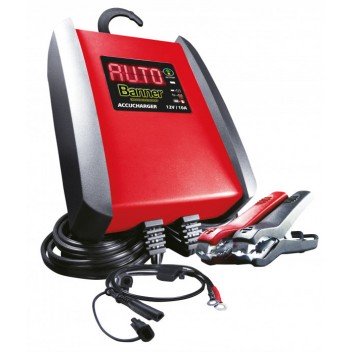 Banner Accucharger 12V / 10A
C8748
Description
In order to ensure that they achieve their anticipated long service life, modern lead-acid batteries require regular equalisation charges. Vehicle batteries in particular are subject to heavy loads owing to the many power consumers that they have to supply. Moreover, short trips and irregular driving profiles, in combination with stop & go traffic and a large number of cold starts serve to create a negative charge balance in the battery. As a result of this gradual undercharging, the battery may slide into a deeply discharged state and fail to function. Fortunately, this problem can be solved through equalisation charging at regular intervals and, in the case of seasonally operated vehicles, charge retention using a Banner ACCUCHARGER. These intelligent devices employ the latest microprocessor-controlled technology with multi-stage charging programs for optimum battery care, maximum safety and absolute operational simplicity.
This powerful, fully automatic charger from Banner is designed to charge 12V lead-acid batteries with up to 230Ah capacity at up to 10 Amps. It uses sophisticated charging programmes for wet, gel and AGM batteries and is ideal for charging batteries which may have been heavily discharged.
An LED display gives information about the state of the battery and how it is being charged. It's easy to use, very safe and, coming from Banner, you know that it's going be one of the best chargers you can buy.
The Accucharger comes with clamps, fused eyelet adaptors, a robust storage bag and operating instructions.
Specifications
| | |
| --- | --- |
| PRODUCT CODE: | C8748 |
| Manufacturer's product code: | ACCUCHARGER 10 |
| MANUFACTURER: | BANNER |
| Mains operating voltage - AC Volts: | 230 |
| Nominal charging voltages - DC Volts standard charging port: | 12 |
| Maximum continuous charging current - Amps: | 10 |
| Suitable for battery types: | All types of lead-acid battery inc. wet, AGM, and GEL |
| Suitable for battery sizes - Ah: | Up to 230ah |
| Selectable Charging Programs Lead?Gel/AGM/Acid, LiFePO4: | Automatic |
| Charging characteristic: | 8 Stage |
| Number of charging outlets: | 1 |
| Ambient temperature rating - : | Minus 20 degrees C to plus 50 degrees C |
| Protection Class / IP rating: | IP20 |
| Protections: | Protection against reverse polarity and overvoltage, Protection against sparks and short circuits |
| Built-in charging monitor: | LED display |
| Dimensions L x W x H - mm: | 140 x 180 x 65 |
| Cable length supplied: | 2 mtr |
| Note: | Animated LED display gives precise instructions and information in plain text |
| Nett weight - kg: | 0.9 |
| Warranty - years: | 1 |
What's in the box
1 x Charger
Clamps
fused eyelets adapter
storage bag
and instruction manual
Sign up to our newsletter