C9609
CTEK Battery Analyzer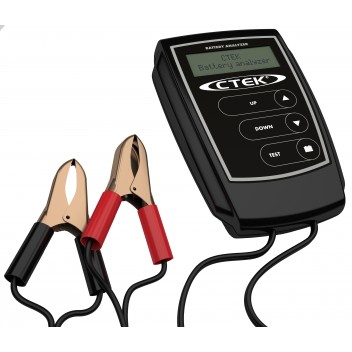 CTEK Battery Analyzer
C9609
Description
Made by Midtronics, the leading manufacturer of 12V battery testers, CTEK's Battery Analyzer tests with high accuracy the condition of all types of 12V lead-acid starter batteries including Wet, Maintenance Free, Ca/Ca, Gel and AGM. Simple to use, it provides fast and easy to understand results. Operating voltage range is 8 - 15V with a test range of 200-1200 EN. The easy to read display gives clear information on the condition of any 12V lead-acid battery and advises what action is required. With no need to disconnect the battery from the vehicle, it's safe for the user, the battery and the vehicle electronics.
Please note that neither this tester nor any other load tester will give accurate results when used with semi-traction batteries such as Banner's Energy Bull models. We supply a conversion chart with the tester which can be used to give a good idea of the Amp hour rating but readings should be regarded as a guide only. The chart is available as a PDF - see below.
More Information
Specifications
| | |
| --- | --- |
| PRODUCT CODE: | C9609 |
| Manufacturer's product code: | 56-924 |
| Nett weight - kg: | 0.384 |
| Warranty period - Years: | 2 |
What's in the box
1 x Tester with hard-wired croc-clips
1 x user manual
Questions
Please log in to ask a question.
Reviews
Please log in to leave a Review.