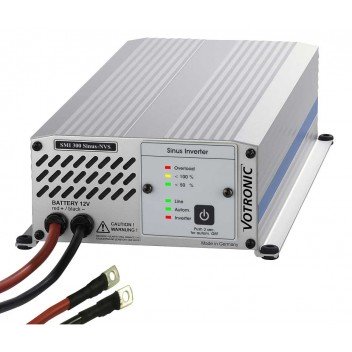 Votronic 3156UK MobilPOWER Inverter SMI 300 Sinus -NVS UK
C85075
Description
The MobilPOWER SMI 300 inverter converts 12V battery voltage into pure sine alternating current at 230 V and is equipped with battery connection cables of the corresponding cross-section. The output socket is a UK 3-pin type.
There is a built-in priority switch which enables the inverter to automatically switch the input source between the 12V battery and an external 240V hook-up when one is available.
The inverter uses advanced switch-mode technology for continuous operation, is compact and very efficient. The capacity of these units is sufficient for many smaller appliances such as TV and satellite receivers, multimedia equipment, computers and office and medical equipment. They are ideal for charging e-bike batteries and mobile phones, tablets, laptops, etc.
The control panel which is built into the body of the inverter can be detached and comes with a 5M cable, enabling it to be installed away from the inverter.
Click here to see the description, full technical specifications and features of this product.
Specifications
| | |
| --- | --- |
| PRODUCT CODE: | C85075 |
| Manufacturer's product code: | 3156UK |
| MANUFACTURER: | VOTRONIC |
| Item in Kg: | 1.800 |
| Warranty - years: | 3 |
| weight: | 1.800 |