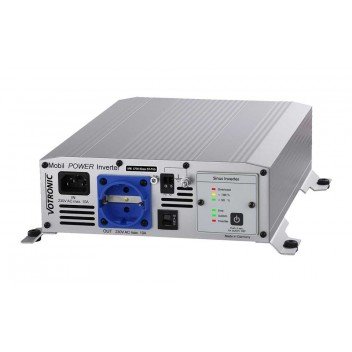 Votronic 3184UK MobilPOWER Inverter SMI 1700 Sinus ST-NVS UK
C85081
Description
Votronic's MobilPOWER inverters convert a 12V battery's voltage into pure sine alternating current 230V. Because of their very high efficiency and high peak power rates, they are applicable for mains appliances with high starting current rates, such as air-conditioning systems. They are fitted with solid battery terminals for the high-current cables needed, which can require a cross-section of up to 50 mm². The output socket is a UK 3-pin type.
Using switch-mode technology, their efficiency exceeds 93% making the inverters highly efficient and with very low operating consumption. Numerous integrated protective circuits, robust power electronics and intelligent microprocessor control ensure high operating safety, even in case of unfavourable operating conditions.
There is a built-in priority switch that enables the inverter to automatically switch the input source between the 12V battery and an external 240V hook-up when one is available. The control panel which is built into the body of the inverter can be detached and comes with a 5M cable, enabling it to be installed away from the inverter.
This model has a continuous output of 1,700W, making it ideal for use in campervans, motorhomes, caravans and boats where appliances such as coffee makers, microwave ovens, toasters and hair-dryers are being used. The inverter can output up to 2,100W for 30 seconds and 3,000W for up to 5 seconds but, as a rule, do not use any appliances which require more than 1,700W.
Please note that, even when the vehicle is connected to an external 240V hook-up, the maximum Watt rating of appliances connected to the inverter is 2,300 Watts.
Click here to see the description, full technical specifications and features of this product.
Specifications
| | |
| --- | --- |
| PRODUCT CODE: | C85081 |
| Manufacturer's product code: | 3184UK |
| MANUFACTURER: | VOTRONIC |
| Item in Kg: | 5.200 |
| Warranty - years: | 3 |
| weight: | 5.200 |