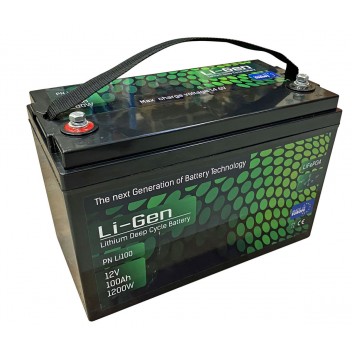 Li-Gen 100Ah/100A Lithium Leisure Battery
C9468
Description
Made in Ireland, Li-Gen batteries incorporate the latest technology to produce high-efficiency batteries at reasonable prices. This 100Ah model has a constant discharge rate of 100 Amps, making it suitable for use with appliances that are rated at up to 1,200 Watts.
In normal use, this Li-Gen leisure battery will last for several thousand charge and discharge cycles. In practice, for the average caravanner or motorhomer, this means that one of these batteries will probably last for 20 years or even longer.* The battery requires no maintenance and, with automatic protection against over-charging, over-discharging, over-current, and high and low temperature, you can relax in the knowledge that your Li-Gen battery will be a reliable 12V supply in your motorhome or caravan for many years.
Li-Gen batteries come with a six-year guarantee against defects in design or manufacture (damage or reduced life caused by misuse is not covered) and all the components in the battery can be recycled or repurposed at the end of its useful life.
*Based on using 50Ah per day, 60 days per year.
More Information
Specifications
| | |
| --- | --- |
| PRODUCT CODE: | C9468 |
| Manufacturer's product code: | LI-100 |
| MANUFACTURER: | Li-Gen Ltd |
| Nominal Voltage: | 12V |
| Ah capacity: | 100 |
| Battery case construction: | ABS plastic |
| Battery type: | LiFePO4 |
| Certification: | IP55 |
| Dimensions (L x W x H) - mm: | 328 x 172 x 220 |
| Terminal type: | 2 x M8 Threaded inserts |
| Max charging current - Amps: | 50 |
| Max charging current - Volts: | 14.4V |
| Max continuous discharging current - Amps: | 100A |
| Max short period discharging current - Amps: | 150A (10 seconds max) |
| Operating temperatures charging / discharging: | 0 Degrees C - 45 Degrees C / -20 Degrees C - 60 Degrees C |
| Self-discharge rate: | <3.5% per month at 25 degrees C |
| Expected Cycle Life @ 80% Depth of Discharge: | >2000 |
| Warranty period - covers defects in design and manufacture: | 6 Years |
| Notes: | All components of this battery can be recycled or repurposed at the end of its useful life |
| Item in Kg: | 14.00 |
| Weight : | 14.000 |
Sign up to our newsletter