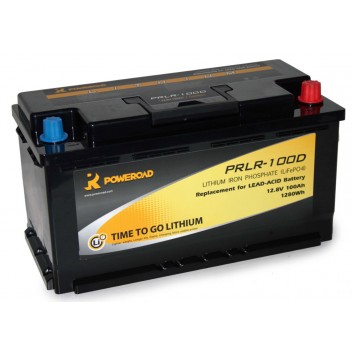 Poweroad "Base" 100Ah Lithium Leisure Battery - Low-Case
C9471
Description
The Poweroad Base 100Ah lithium battery is perfect if you want to find out what a lithium battery can do for you in your motorhome, caravan or campervan without spending too much money. It's been designed so that it can be simply dropped in where the regular leisure battery goes (as long as there's space available) and will work safely without any additional equipment.
Of course, without uprating the vehicle's charging sources, you won't get the full benefits of a lithium battery but, compared to a lead-acid battery, you will get longer life, and more energy plus the added benefits of weight-saving and zero maintenance.
We recommend using this battery with inverters rated at up to 1,500W max.
A maximum of two batteries can be connected together in parallel.
Specifications
| | |
| --- | --- |
| PRODUCT CODE: | C9471 |
| Manufacturer's product code: | PRLR-100-D |
| MANUFACTURER: | DC Batteries |
| Nominal Voltage: | 12V |
| Ah capacity: | 100 |
| Multiple Parallel Battery Connection: | Up to 2 units in parallel or 4 in series |
| Battery case construction: | ABS plastic |
| Battery type: | LiFePO4 |
| Dimensions (L x W x H) - mm: | 355 x 176 x 190 |
| Terminal type: | M8 Terminal poles |
| Max charging current - Amps: | 100 |
| Max charging current - Volts: | 14.4 |
| Max continuous discharging current - Amps: | 100A |
| Max short period discharging current - Amps: | 200A (3 Seconds) |
| Operating temperatures charging / discharging: | 0 degrees C to + 50 degrees C / -20 degress C to + 55 degrees C |
| Over / under voltage protection: | Discharge cut-off voltage 10V |
| Self-discharge rate: | <3% per month |
| Expected Cycle Life @ 50% Depth of Discharge: | 2-5,000 |
| Warranty period - covers defects in design and manufacture: | 5 years |
| Item in Kg: | 14.00 |
| weight: | 14.000 |