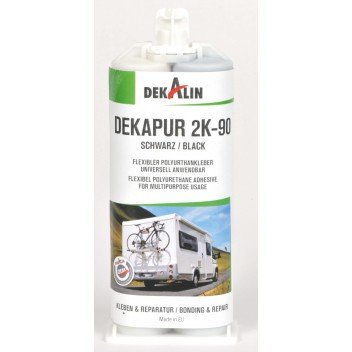 Dekapur 2K-90 Double Cartridge: 50ml
L0916
Description
Dekapur 2K-90 is a (very) fast curing, easy to use, structural 2-component polyurethane adhesive, ideal for structural repairs and bonding plastic parts. It cures by a chemical reaction of the two components (mixing ratio 1:1), forming a durable polymer resistant to elevated temperatures, moisture, fuel, many solvents and chemicals. Dekapur 2K-90 is specifically designed for small, quick and durable repair jobs.
APPLICATIONS
Repair of broken plastic parts, such as bumpers, spoilers, lights, front grills, surf boards, etc.
Filling of holes and gaps, also on e.g. metal, wood, stone and glass.
General bonding applications where a fast curing is required.
FEATURES
Easy and cost effective repair.
One product for almost all plastics.
Very good sag resistance (thixotropy), allowing vertical application.
Flexible.
Missing parts can be rebuild.
Very fast curing.
Different working times available.
Quick sanding times and short clamping times.
Contains no VOC's so no shrinking.
More Information
Specifications
| | |
| --- | --- |
| PRODUCT CODE: | L0916 |
| Manufacturer's product code: | 62526 12 |
| MANUFACTURER: | Dinol |
| Nett weight - kg: | 0.09 |
| Note: | 50ml double cartridge requires special gun to use |
Sign up to our newsletter