C8612
CTEK Comfort Connector (M6)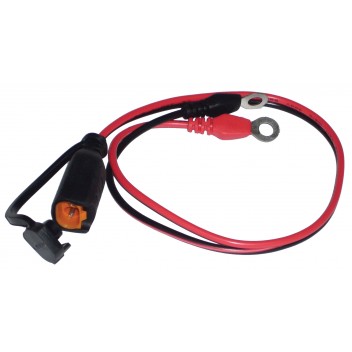 CTEK Comfort Connector (M6)
C8612
Description
This connection lead can be fixed permanently to virtually any battery. Then, when it needs to be charged, just connect the CTEK charger's 12V leads using the clip connector. There's no need to mess about with crocodile clips and disconnecting is just as easy and clean. Can be used with CTEK models: XC 800, XS 800, MULTI XS 3600, MULTI XS 7000, XC 0.8 XS 0.8 MXS 3.6 & MXS 7 [b]Please Note: This lead is designed for use with CTEK models manufactured after March, 2007. These can be identified by the orange connector on the lead supplied with the unit.[/b]
Specifications
| | |
| --- | --- |
| PRODUCT CODE: | C8612 |
| Manufacturer's product code: | 56-260 |
| MANUFACTURER: | CTEK |
| Mains operating voltage - AC Volts: | N/A |
| Nominal charging voltages - DC Volts standard charging port: | N/A |
| Nominal charging voltages - DC Volts Auxiliary charging port: | N/A |
| Maximum continuous charging current - Amps: | N/A |
| Max. Power consumption (AC): | N/A |
| Suitable for battery types: | N/A |
| Suitable for battery sizes - Ah: | N/A |
| Selectable Charging Programs Lead‐Gel/AGM/Acid, LiFePO4: | N/A |
| Charging characteristic: | N/A |
| Minimum battery voltage required - Volts: | N/A |
| Number of charging outlets: | N/A |
| Operating temperature rating - °C: | N/A |
| Ambient temperature rating - °C: | N/A |
| Cooling method: | N/A |
| Silent Run Function: | N/A |
| Protection Class / IP rating: | N/A |
| Temperature compensation: | N/A |
| Temperature sensor included: | N/A |
| Remote control option: | no |
| Automatic Battery Regeneration/Li Auto Wake Up: | N/A |
| Protections: | N/A |
| Built-in charging monitor: | LED display |
| Certification: | N/A |
| Suitable for permanent installation: | Yes |
| Dimensions L x W x H - mm: | 197 x 93 x 49 mm |
| Cable length supplied: | 40mm |
| Note: | M6 connector type, Cable length 400mm, ideal for use with all ctek chargers upto Ctek 10 |
| Nett weight - kg: | 0.045 |
| Warranty - years: | 2 |
Customer Questions
Asked by Richard
I have a motorhome with AGM leisure battery and engine battery. Assuming I have not connected the onboard charger, can I use a CTEK charger with a battery connected, or do I need to disconnect the battery at its terminals?
Answered by Allen Jenner at RoadPro
on November 12th, 2018
Yes the CTEK has been safely used whilst the battery is still connected.
---
Sign up to our newsletter