12V / 24V Power & Distribution > 12V / 24V Plugs sockets & adaptors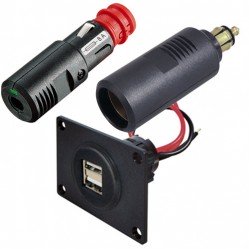 If you run 12V or 24V appliances in your vehicle or boat, you'll know that you can't have enough sockets. As the UK distrbutor for German manufacturer Pro Car, we have what's probably the biggest range of 12V / 24V sockets as well as plugs and adaptors anywhere.
Pro Car make sockets and plugs for some of the leading European vehicle manufacturers so you can be sure that the products are of excellent quality. They invented the "universal" plug which enables an appliance to be plugged into both a lighter-type socket and a DIN socket. Their range of USB sockets is growing all the time as well.
Whatever you need to plug in or connect to, if it's 12V or 24V there's almost certainly a Pro Car product that will be just right for the job. And, if there isn't, we have plenty of other plugs, sockets and connectors as well!
Click on the PDF below to see the Pro Car catalogue which shows the full range. If you'd like to order something that isn't on our website, please contact us.