12V / 24V Products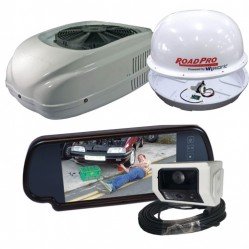 If you spend time in a boat or a vehicle, we have a whole range of products which will help to make you comfortable, entertained and safer. All the products shown here connect either to a 12V or 24V socket or, in some cases, directly to a 12V / 24V battery.
Products that run on D.C. power have become a lot more efficient in recent years and don't use nearly as much energy as they once did. TVs, lighting and fridges are good examples. So it's completely practical – with the right equipment – to live "off-grid" and use only the power that's generated in your vehicle or boat.
Having said that, it's important to bear in mind that appliances that consume a lot of power, such as cookers, kettles and heaters, may not operate as efficiently on 12V or 24V as a 230V model; hair dryers are the best example of this. And, if the wrong wiring or socket is used, or if the battery is not able to supply sufficient energy, even the best appliance may not work as it should.