12V / 24V Power & Distribution > Battery to Battery DC-DC battery chargers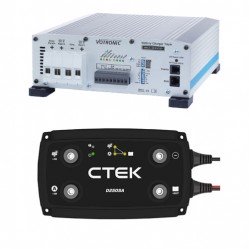 "Intelligent" battery chargers are great when you have access to mains hook-up but how do you keep your batteries properly charged when on the move?
Most motorhomes, boats and other vehicle with living accommodation use a simple split-charge relay or something similar. But, these operate just like an old-fashioned battery charger, measuring voltage alone and with no reference to what the leisure batteries actually need to perform at their best.
The answer: install a battery-to-battery charger, a remarkable device which - when the vehicle's engine is running - constantly monitors both starter and auxiliary batteries.
It then takes spare energy (supplied by the alternator) from the starter battery and uses it to charge the auxiliary battery or batteries in the same way that a 230V "intelligent" charger would. This not only ensures that batteries are as fully charged as possible but also prolongs their working life.
We have a choice of models from different manufacturers to enable you to get exactly the right one for your vehicle or boat.
NOTE: All Votronic battery-to-battery chargers will trickle charge the starter battery at 2 Amps when the leisure battery is close to fully charged and there is a charge going in from solar panels or 240V hook-up. For this feature to work, the battery-to-battery charger must be connected to D+.
Recent Reviews
Power Service Gold 40-M Triple Charger
I fitted the NDS Gold Service 40 to my custom-built campervan in 2017 and have been using it ever since. The key benefit to me is the 40A battery to battery charger which enables me to rapidly recharge my two 100AH Banner leisure batteries between campsites, or photo and video shoot locations if I'm working. As my vehicle also uses a compressor fridge, as well as a diesel hob/heater and a 1500W NDS inverter powering a Nespresso coffee machine it can be quite demanding on power – especially on winter shoots with the heating on - so I wanted something that could recharge the batteries rapidly and would be a fit and forget item. It can also charge from a hook-up at up to 20A and has a built-in solar regulator allowing for panels of up to 250W (I use a 150W panel and it has been fine over winter).
Even over lockdown, it managed the charge from the solar panel to keep both leisure batteries fully charged. It looks after the batteries with no intervention from me – which is perfect for a forgetful journalist! The other point to make is that including the solar regulator/charger/B2B in one compact box makes for an easy and neat install – important in a campervan where every mm of space counts. The unit itself is easy to wire, too. It also works fine with the smart alternators fitted to modern vehicles, sending far more charge to the leisure batteries than any split charge or VSR system would do. In the four years I've had it, it's performed exactly as it said on the box and has proved reliable.
Peter Rosenthal (specialist technical writer for campervan and motorhome magazines)