12V / 24V Products > Camera systems for Motorhomes Caravans Vans & Trucks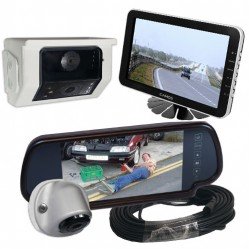 Being able to see what's behind you when you're driving is almost as important as seeing what's in front. If you drive a vehicle with restricted vision to the rear or none at all, one of our reversing camera systems could be just what you need.
We know from experience that cheaper rear-view cameras and monitors may look good but usually give poor results and don't last for long. That's why we stock models from Camos which, for many years has been one of South Korea's leading manufacturers of rear-view cameras. Camos make top quality products that you can trust to work efficiently for many years and many motorhome manufacturers, including Hymer, Dethleffs and Adria fit Camos reversing camera systems at the factory.
People and vehicles have different requirements and so we have a choice of cameras and monitors but, whichever Camos system you choose, you can be sure that you're fitting one of the best rear-view camera systems available to your motorhome.