12V / 24V Products > Camera systems for Motorhomes Caravans Vans & Trucks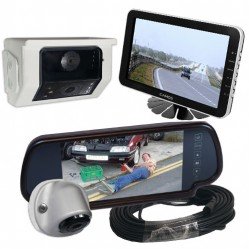 Being able to see what's behind you when you're driving is almost as important as seeing what's in front. If you drive a vehicle with restricted vision to the rear or none at all, one of our camera systems could be just what you need.
Because people and vehicles have different requirements, we offer models from Camos and Dometic (these are sold under the Waeco brand name). These are two of the leading names in rear-view camera technology, with top quality products that you can trust to work efficiently for many years. We know from experience that other, cheaper, cameras and monitors may look good but often give poor results and don't last for long.
If you can't or don't want to use a camera to find out what's behind you when reversing, we also have reversing sensors which fit discreetly into your vehicle's bumper and give an audible and visual warning.
Sign up to our newsletter