12V / 24V Power & Distribution > Inverters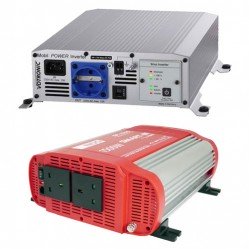 When you need to use a 230V appliance but you only have 12V or 24V available in your vehicle or boat, you need an inverter. More than with most of our products, choosing the right one is critical: get it wrong and, at best, your 230V appliance won't work; at worst, it may be seriously damaged or even catch fire!
We stock a variety of inverters and, whatever the mains appliances you want to run, we've almost certainly got something that will do the job. Although there are two types of inverter - modified sine-wave and pure sine-wave, we only sell pure-sine models. These are much more efficient and will guarantee that all your appliances will work perfectly. For certain equipment, including coffee machines and electric toothbrushes(!), only a pure sine wave unit will do.
Sign up to our newsletter