12V / 24V Power & Distribution > Battery chargers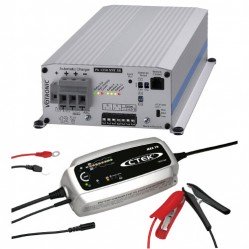 A good battery charger is key to keeping your vehicle's batteries healthy and performing at their best.
We have a choice of chargers from different manufacturers, all of which are "intelligent" which means that they will monitor your batteries' condition and charge them in the best possible way.
CTEK was the first company to develop the idea of "intelligent chargers" and RoadPro was the first company in the UK to sell them. Their range covers most requirements and is particularly user-friendly.
Votronic is one of Germany's leading manufacturers of high quality electronic products for mobile use. Their battery chargers are built to professional specifications and are used by some of the leading European vehicle and boat builders.
Whether you want to charge your vehicle's starter battery or leisure batteries, or a bank of batteries in a narrow boat, 12V or 24V, in this section you'll find a battery charger to do the job.