12V / 24V Power & Distribution > Solar power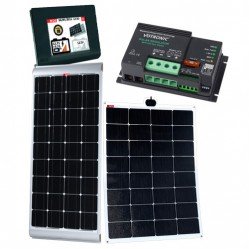 Solar power is usually the most efficient and easiest way to keep your domestic batteries charged up. It's also probably the cheapest and neatest.
As the UK distributor for NDS and Votronic, we can offer a wide variety of panels, regulators and other accessories. This means we can ensure that you get precisely the system that gives you what you want and what your batteries need. For advice and additional information, get in touch with us.
As with all the products that we supply, the quality is high and the prices competitive. We also like to have options that our competitors just can't or don't want to offer. Votronic regulators for example may cost a little more than Chinese made ones but they are extremely reliable and very efficient.
Our "Aero" solar panels come from NDS in Italy and not only work well but look great too. NDS also make a range of semi-flexible panels and these are becoming more and more popular because of their versatilty and light weight. We even have two panels designed especially for campervans with elevating roofs. Because of the way they're made, semi-flexible panels can also be more efficient than rigid ones.
Sign up to our newsletter