Solar regulators & Monitors > MPPT Solar Regulators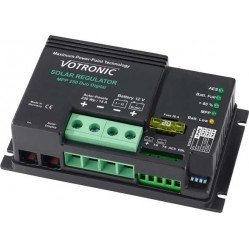 MPPT stands for Maximum Power Point Tracking and the term is often used to describe a particular type of solar controller or regulator.
In effect, MPPT solar controllers contain a little computer which constantly checks the output of a solar panel. It then compares the output to the battery's voltage and calculates the best combination of Amps and Volts to get the maximum power into the battery. They are especially useful in conditions that are less than ideal: when it's cloudy or the sun is low on the horizon for example. Depending on the installation and the light conditions, an MPPT controller can increase the current going into a battery by up to 30% when compared to a standard controller.
Here's an easy way to understand how MPPT works in practice:
Imagine that you are trying to wash your car but you can't get closer to it than 10'. The water pressure in your hosepipe is constantly varying (because there's a fault at the pumping station, since you ask). When the water pressure is high, the stream of water coming out of the hosepipe is powerful enough to reach the car easily. But, when the pressure drops, you have to place your thumb over the end of the hose to increase the force of the stream. So there's less water coming through the hose but what there is can still reach the car. Because the water pressure is constantly changing, you have to keep adjusting the position of your thumb so that the car gets cleaned.
In this analogy, the car is a battery; the pumping station is a solar panel (the fault is lack of direct sunlight); the water is the current (Amps); the hosepipe is the cable between the solar panel and the battery and your thumb is the little computer inside the MPPT controller which is constantly adjusting the stream of water so that it reaches the car as efficiently as possible.