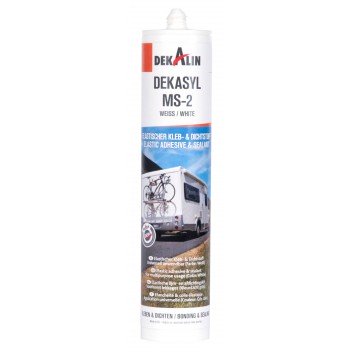 Dekasyl MS2 White - Cartridge 290ml
L0901W
Specifications
| | |
| --- | --- |
| PRODUCT CODE: | L0901W |
| Manufacturer's product code: | 6251612 |
| MANUFACTURER: | Dinol |
| Colour: | White |
| Materials: | MS-Polymer elastic adhesive and sealant |
| Suitable for: | Elastic bondings and sealing in motorhome, caravan, bus, truck and train construction. Ideal for fixing items such as satellite systems, solar panels, etc to the roofs of caravans, motorhomes and boats |
| Suitable substrates: | Aluminum, stainless steel, galavanised steel, zinc, copper, brass, powder-coated metal, glass, PVC, GRP, painted and lacquered wood and more |
| Nett weight - kg: | 0.51 |
| Note: | 290ML CARTRIDGE |
Customer Questions
Asked by keith
Please could you tell me if you need an activator for bonding oyster dish aluminium plate to motorhome roof Regards keith
Answered by Allen Jenner at RoadPro
on July 20th, 2018
MS2 does not requrie an activator.

It is essential that both surfaces are clear of dirt and grime, if you don't have a specialist product then Brake Cleaner works well.

The manufacturer states : In general Dekasyl MS-2 adheres well without primer on clean, dry, dust- and grease free substrates of aluminium, stainless steel, galvanised steel, zinc, copper, brass, powder coated metal, most lacquered metal surfaces, glass, PVC, polyester (GRP), painted and lacquered wood, etc. No adhesion on untreated polyethylene, polypropylene and teflon. In those cases where due to great thermal or physical loads, especially under wet conditions, high adhesion demands are needed, the use of an adhesion promotor is recommended. For not mentioned substrates and additional information consult Dekalin.
---
Sign up to our newsletter