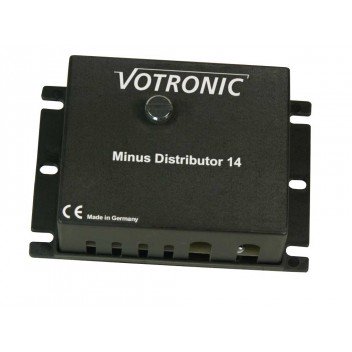 Votronic 3218 Minus-Distributor 14
C85112
Description
A proper power installation in the vehicle is not only a matter of orderliness but rather a compelling need to ensure safety on board. The frequently encountered cable clutter behind the furniture walls complicates the troubleshooting in case of a malfunction and could be a diversifiable risk.
The compact and indispensable peripheral units from VOTRONIC are used for a professional distribution and protection on the plus side of the battery and sufficient ground ratio.
Minus Distributor 14
This is a efficient distributor at the minus side of the battery for 12 individual electric circuits. It is particularly recommendable for ground distribution in case of insulating (plastic) vehicle bodies or insufficient ground ratio. The minus feed line is connected to a solid terminal block with cable lug (cable cross-section 16 mm², total max. admissible current 96 A). If required, a further terminal block serves for minus distribution (cable lug 16 mm²). The distribution is effected on 4 terminals (6 mm², max. 32 A), as well as 8 terminals (4 mm², max. 20 A). The electric circuits are marked with 1-12. The cover with cable guiding unit ensures safe fixing of the cables and neat appearance. It is suitable for 12 V and 24 V operations.
Click here to see the description, full technical specifications and features of this product.
Specifications
| | |
| --- | --- |
| PRODUCT CODE: | C85112 |
| Manufacturer's product code: | 3218 |
| MANUFACTURER: | Votronic |
| Item in Kg: | 0.125 |
| Warranty period - Years: | 3 |
| weight: | 0.155 |