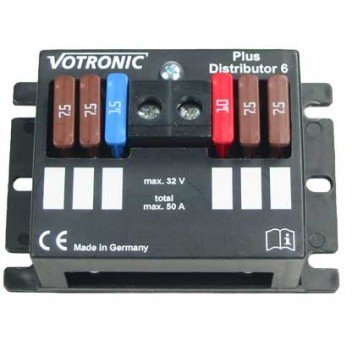 Votronic 3203 Plus-Distributor 6
C85109
Description
A proper power installation in the vehicle is not only a matter of orderliness but rather a compelling need to ensure safety on board. The frequently encountered cable clutter behind the furniture walls complicates the troubleshooting in case of a malfunction and could be a diversifiable risk.
The compact and indispensable peripheral units from VOTRONIC are used for a professional distribution and protection on the plus side of the battery and sufficient ground ratio.
Plus Distributor 6
The compact, efficient plus distributor with 6 separate electric circuits allows professional distribution and protection of small and average consumers on the plus side of the battery. Two large collective terminals (cable cross-sections up to 16 mm², maximum admissible current 50 A) serve for power supply from the battery, and can also be used for a further plus distribution. The fuse holders on the consumer's side are designed for commercial car fuses of the capacities 1 A to 20 A. The standard delivery includes the types 15 A, 10 A and 4 x 7.5 A. The supplied six large distribution terminals allow cable cross-sections up to 4 mm² at a maximum admissible current rate of 20 A. Marking areas on the housing facilitate the allocation of the fuses to their electric circuits. It is suitable for 12 V and 24 V operations.
Click here to see the description, full technical specifications and features of this product.
Specifications
| | |
| --- | --- |
| PRODUCT CODE: | C85109 |
| Manufacturer's product code: | 3203 |
| MANUFACTURER: | Votronic |
| Item in Kg: | 0.125 |
| Warranty period - Years: | 3 |
| weight: | 0.125 |