Battery chargers - 230V > 12V Battery Chargers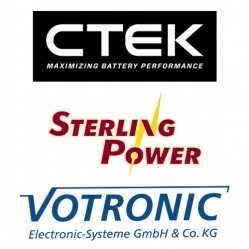 Our range of 12V chargers is sure to include ones that are ideal for your batteries, whatever vehicle or boat you have. You'll also find chargers which are suitable for all kinds of battery, including AGM and lithium.
To help you find exactly what you want, filter the units shown by manufacturer. You can also select up to 4 products and compare specifications side by side. Tick the Compare boxes to select the models and then click the COMPARE ITEMS button that's highlighted in yellow.
CTEK were the first company to develop the idea of "intelligent chargers" and RoadPro was the first company in the UK to sell them. Their range covers most requirements and is particularly user-friendly. Click here to see the CTEK Product Guide.
Sterling Power is a British company who are well known in the marine market all over the world. With his innovative ideas and expert technical knowledge, Charles Sterling's chargers are some of the most advanced you can buy. Click here to see the Sterling Power Product Guide.
Votronic is one of Germany's leading manufacturers of high quality electronic products for mobile use. Their battery chargers are built to professional specifications and are used by some of the leading European vehicle and boat builders. There are four model types in the Votronic range: Pb models are designed to be built into motorhomes, boats and specialist vehicles. VAC models are similar but have additional features which make them ideal for use in emergency vehicles such as ambulances, fire engines and police vehicles. VBCS Triple models incorporate three charging methods into one compact unit: from the alternator, mains hook-up and solar panels using an MPPT controller. VAC Triple models also charge from both the alternator and mains hook-up but are designed for installations where the condition of the starter battery is equally as important as that of the auxiliary battery: on blue-light vehicles for example. Click here for more details.
Sign up to our newsletter