Votronic Battery-to-Battery Chargers > Votronic VCC Series Battery-to-Battery Chargers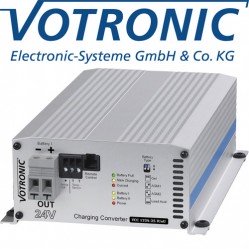 Votronic's VCC battery-to-battery chargers are designed to keep leisure batteries in motorhomes and campervans fully charged and in good condition. They do this by taking energy from the vehicle's alternator and using a multi-stage charging profile which can be set to whatever type of battery is being used.
Model C85065 is the smallest B2B charger you can buy and yet it charges at up to 30 Amps. Like all Votronic chargers, it's compatible with smart alternators and standard ones and can be used with all kinds of lead-acid battery as well as lithium batteries.
12V-12V, 12V-24V and 24V-12V models are available.
Recent Reviews
Votronic 3326 Battery-to-battery charger VCC 1212-50
Top quality equipment, not cheap but you can definitely see the quality. Recently fitted this b2b charger alongside the battery and solar computers. Clear and precise instructions in English so easy to fit. Recommended.
Sign up to our newsletter