Votronic Battery-to-Battery Chargers > Votronic Triple Battery-to-Battery Chargers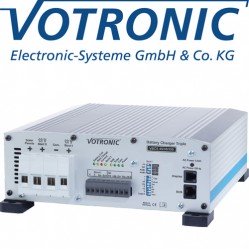 Triple models come in two versions, VBCS & VAC.
VBCS models incorporate a battery-to-battery charger, a solar regulator and a 240V charger. They are ideal for use on motorhomes and campervans and there's a marinised version for boats - C85069M.
VAC models don't have a solar regulator but, instead, an intelligent charger for rapid charging of the starter battery. The charger also trickle charges the starter battery during periods when the vehicle is not being used. VAC chargers are mainly used in vehicles where the starter battery is also used to power consumers such as sirens, blue lights, entertainment, etc.
Sign up to our newsletter