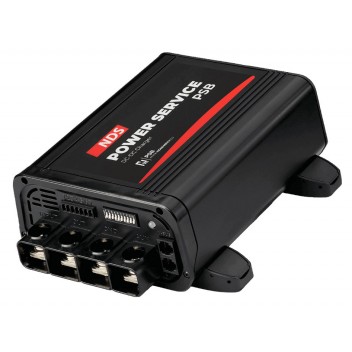 NDS PSB PowerService 12V 80A Battery-to-Battery Charger
C8222
Description
The POWERSERVICE PSB from NDS is a powerful battery-to-battery charger that ensures high-efficiency charging with both conventional and "smart" alternators found on Euro 6 vehicles. High charging currents of up to 80A make the PSB ideal for fast charging of lithium batteries as well as lead-acid batteries including wet, AGM and gel.
The POWERSERVICE PSB is equipped with the intelligent OPTICHARGE system which optimises the performance and yield of leisure batteries by selecting a specific charging curve for each battery technology and adjusting the charge according to the state of charge of the battery.
The POWERSERVICE PSB is the only device on the market with an AUX connection, allowing the PSB to be easily installed in vehicles with existing charging systems. When the vehicle is in motion, the AUX relay shifts all the loads connected in the control unit to the engine battery, thus bypassing the existing parallel charging connection, so the leisure battery will be recharged directly, at maximum performance.
This charger can be used on vehicles with alternators rated at 140A or higher.
Main Features
Adjustable for 40A, 60A, 80A output
Up to 8 charging stages
Buck Booster technology for super stable charging
Aux bypass for direct connection of extra loads to the alternator
Opticharge firmware
N-Bus communication protocol
Optional N-Bus display
Specific charging curve for batteries: Lithium LiFePO4, AGM, Gel, Flooded
More Information
Specifications
| | |
| --- | --- |
| PRODUCT CODE: | C8222 |
| Manufacturer's product code: | PSB 12-80 |
| MANUFACTURER: | NDS |
| Suitable for use with smart alternators?: | Yes |
| Input Voltage - Volts: | 12 |
| Output voltage - Volts: | 12 |
| Max. charging current - Amps: | 3 Programs, 40a, 60a, 80a |
| Minimum Altenator rating: | 140 |
| Suitable for battery types: | All types of lead-acid battery inc. wet, AGM, Gel and Lithium LifePo4 |
| Charging Programs: | Upto 8 Step charging based on battery type installed |
| Notes: | Buck Booster for super stable charging, Aux Bypass for direct coonection of extra loads to the alternator, Opticharge firmware, N-Bus communication Protocol, Optional Bus dsiplay available, |
| Protections: | Alternator and starter battery protection from Overload, unexpected stress and undervoltage |
| Warranty - years: | 2 |