Procar 12V/24V Plugs Sockets & Adaptors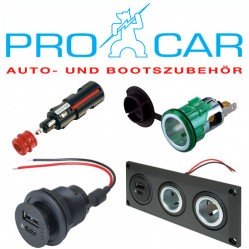 Procar is a German manufacturer of plugs, sockets and adaptors for 12V/24V products. They invented the famous red-tipped "Universal" plug which can be used in both lighter and DIN sockets and have the widest range of high-quality 12V/24V connectors in the world. The range now includes USB sockets,including the latest "C" type.
If you're looking for the very best quality products of this kind, Procar is the name to look for and you can see most of the Procar range here. Click on the PDF to see the Procar catalogue.