TESA AutoLift Self-Levelling System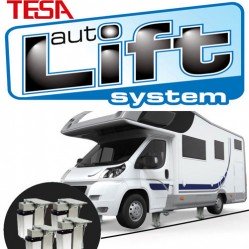 If you've thought about having an automatic levelling system fitted to your motorhome but have been put off by the cost, take a look at the the AutoLift from TESA. The TESA AutoLift is different from any other motorhome levelling system in that it uses electro-mechanical jacks instead of hydraulics. The advantages of this approach include:
Lighter weight
No maintenance
No possibility of fluid loss
In addition, the AutoLift system is considerably less expensive than hydraulic systems.
The AutoLift System is widely used in Italy, Germany, France, Holland and Denmark as well as other European countries. It's easy to use, reliable and effective and it can be fitted to most motorhomes including panel vans. Installation kits are available for:
Ducato / Boxer / Relay
Mercedes Sprinter
Iveco
Ford Transit
Renault Master
If your vehicle is not listed, please enquire.
We do not supply the TESA system for self-installation but we work closely with our approved TESA installers who will ensure that the job is done correctly.
Sign up to our newsletter