12V / 24V Products > Satellite systems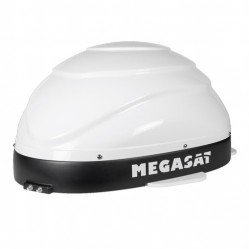 At RoadPro, we've been selling satellite TV systems for motorhomes and caravans since 2004, so we know a little bit about what works well for our customers. The satellite systems that we sold back then were dome systems, with the dish itself inside a protective cover. Our sat-domes were best-sellers for several reasons:
Excellent performance even in high wind.
Protection from the elements.
Simple installation.
Very easy to use.
Compact size means that a sat-dome can be put on a fixed roof where there's no space for a folding dish.
High reliability.
Competitive pricing.
Our new range from Megasat has all the advantages listed above with added features including remote control and software updates via a phone app.
The demand for satellite TV systems is smaller than it was, due to the popularity of WiFi, but for anyone who wants to be able to access regular TV channels without having to worry about the cost or availability of an Internet signal, a satellite TV satellite system makes a lot of sense.
RoadPro is working with German manufacturer Megasat, who have been selling these systems for as long as we have and we know that their products are excellent. We currently offer two dome systems because, for most people, this type really is the best choice.