12V / 24V Power & Distribution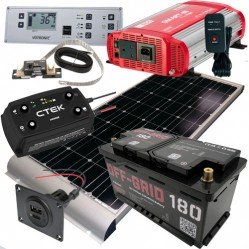 Almost every vehicle and boat relies on 12V or 24V power and, in this section of our website we have products which help to make the most of it.
Batteries and EZA power-packs store the energy and our range of chargers help to keep them in peak condition. Solar power systems and battery-to-battery chargers ensure that batteries are maintained correctly, giving longer life and better performance. Pro car plugs, sockets and adaptors reliably distribute the power, along with cables, connectors, fuses, etc.
If your vehicle has a 24V system and you want to use 12V products, Alfatronix products provide the solution and, if you need to access 230V A.C. our range of inverters are capable of safely and efficiently powering most domestic appliances.
As with all the products that we sell, the ones shown here are amongst the best quality of their type available with reliability built in. When it comes to electricity – even if it's only 12V or 24V – it's simply not worth cutting corners. We deal with some of the most reputable manufacturers in Europe and we have PDF versions of some of their catalogues below. Just click on the PDF icons to view.
Sign up to our newsletter