12V / 24V Power & Distribution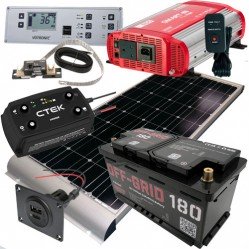 Almost every vehicle and boat relies on 12V or 24V power and, in this section of our website, we have products which help to make the most of it.
Batteries - lead-acid or lithium - store the energy and our range of chargers - mains or battery-to-battery - help to keep them in peak condition. Solar power systems help to ensure that batteries are charged and maintained correctly, giving longer life and better performance. Our range of plugs, sockets and adaptors reliably distribute the power, along with cables, connectors, fuses, etc.
If you need to run 230V appliances in your vehicle or boat, our range of inverters are capable of safely and efficiently powering anything from a phone charger and medical equipment to an induction hob or microwave oven.
As with all the products that we sell, the ones shown here are amongst the best quality of their type available. When it comes to electricity – even if it's only 12V or 24V – it's simply not worth cutting corners. CTEK, NDS, Procar and Votronic are some of the most reputable manufacturers in Europe and we have PDF versions of their catalogues below. Just click to view.
PLEASE NOTE THE FOLLOWING WHEN ORDERING SOME OF THESE PRODUCTS
SOLAR PANELS ARE SHIPPED ON A 48HR SERVICE, WE CANNOT SHIP THESE FOR NEXT-DAY DELIVERY.
ORDERS FOR BOTH BATTERIES AND SOLAR PANELS ARE SHIPPED AS SOON AS WE CAN, PLEASE NOTE ORDERS COMING THROUGH AFTER MIDDAY WILL NORMALLY BE DISPATCHED THE NEXT WORKING DAY. THIS IS DUE TO A CUT-OFF TIME FOR THESE TO BE MADE READY TO BE COLLECTED BY THE COURIERS.