12V / 24V Power & Distribution > 12V lead-acid batteries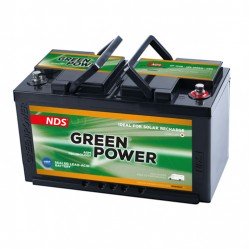 Batteries are both one of the most important and one of the most neglected components in vehicles and boats. RoadPro only sells high-quality batteries and we have ones which are suitable for both starting engines and powering equipment – leisure batteries or, as they're sometimes known, auxiliary or domestic batteries.
We recommend Banner "Energy Bull" and NDS "Green Power" batteries for leisure use as they are both specially designed and made for this purpose. They're a little more expensive than some other batteries but, when their performance and lifetime are taken into consideration, they're great value for money.
For starter batteries and batteries which are ideal for use with caravan movers, check out our other Banner batteries.
For maximum reliability and perfomance on 12V and - with an inverter - 230V, we stock LiFePO4 lithium batteries. These can be used as replacements for existing lead-acid batteries.
WE ARE UNABLE TO SHIP BATTERIES OUTSIDE OF THE UK MAINLAND
Sign up to our newsletter