12V / 24V Products > 12V / 24V air conditioning systems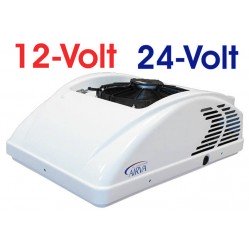 There are many different models of air conditioner for motorhomes, caravans, trucks and boats but almost all of them cool only when you're driving or else when the vehicle has 230V hook-up.
Our 12V / 24V air conditioning unit are designed specifically to operate when only DC power is available, even when the vehicle is stationary. They use special components - the compressor in particular - which need far less power when in operation than 230V systems.
They're suitable for use on all kinds of vehicle as long as the available battery capacity is sufficient. For example: agricultural vehicles, construction and industrial equipment such as fork lift trucks, security vehicles and even mobile libraries. We can advise on whether our systems are suitable for your application.