12V / 24V Power & Distribution > 12V Lithium Leisure Batteries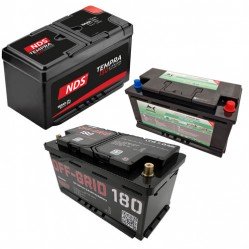 RoadPro started selling and installing LiFePO4 lithium batteries in 2015 and, at the time, were just about the only motorhome specialists doing this. Since then, more and more lithium batteries are coming onto the market and they are becoming increasingly popular for anyone who relies on batteries to run the appliances in a motorhome, caravan, special vehicle or boat. But, with so many available and so many claims being made by salesmen, how do you decide which one/s would be best for your requirements?
Since 2015, we've sold and installed thousands of lithium batteries and have learned a lot about them in the process. That's why we restrict the batteries we sell to ones that we know will work in the way we say they will. It's also why we now have OFF-GRID batteries made to our own specifications by one of the leading manufacturers.
There are many reasons why lithium batteries are becoming so popular and why they make great leisure batteries, far superior to traditional lead-acid batteries. Here are some of those reasons:
Fast charging - 50 Amps - 100 Amps+ depending on model and installation method
Safe, fast discharging, making them ideal for use with inverters
Can be discharged by up to 95% without adverse effects
No significant drop-off in voltage even when the battery is heavily discharged
Low self-discharge rate - varies according to model and temperature but 3% on average
2,000 - 8,000 estimated cycles depending on model and the way the battery is used*
Low weight - approx. 50% of an equivalent lead-acid battery with a similar Ah rating
No maintenance
Completely safe - no toxic fumes, corrosive liquids or fire risk
Most lithium batteries can be mounted horizontally or vertically or even on end.
*The life of a lithium battery will vary according to how it's used and the most important factor is how often and how quickly it is heavily discharged. Two identical batteries can have dramatically different useful lives: one that's heavily discharged on a daily basis may start to lose efficiency after a few months whereas one that is only lightly discharged every now and again, could last for many years. We calculate that, for a typical motorhomer or caravanner, a good-quality 100Ah lithium battery that has been correctly installed could, in theory, last for 20 years or more.
IMPORTANT!! Installation of any LiFePO4 lithium battery is possible in most vehicles and boats that use lead-acid leisure / auxiliary batteries. However, if the battery is to work efficiently and safely for the maximum length of time, it's essential that it is installed correctly. This means that the charging voltages of the alternator, the mains charger and a solar panel (if fitted) are appropriate for the battery with specific Lithium/LiFePO4 settings. If they are not, the battery can be damaged. Additionally, a temperature sensor should be used with all charging sources.
If the vehicle is fitted with a "smart alternator" and you want your battery to be charged efficiently, it's essential to use a suitable battery to battery (DC-DC) charger.
You can read all about lithium batteries and how they can change the way you use your vehicle or boat by clicking here.
If you are using one or more of our lithium batteries in an environment other than a motorhome, campervan, caravan or boat, please check with us regarding the correct charging methods.