12V / 24V TV & audio > TVs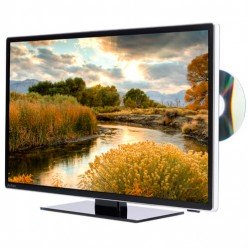 We've been supplying 12V and 24V televisions for 30 years now and they've changed a lot. For a start, they all show pictures in colour!
Some other things that have changed are the sizes of TVs - both cabinet and screen sizes - the amount of features and the quality of both the pictures and sound. These improvements are all seen in models shown here with screen sizes from 18" - 32". For all the features built in, take a look at the specifications for each TV.
Avtex televisions are simple to use and very reliable. But they're also very sophisticated with easy-tune feature, built-in DVD players (not all models), satellite and Freeview tuners and much more. Look below each TV for a full list of specifications.
Alden AIO models are designed to be used with Alden satellite systems. They have built-in controllers which makes installation of a complete satellite TV system neat and tidy. Operation of both the TV and the satellite dish is done from the TV remote control. Satellite TV has never been simpler.
Sign up to our newsletter