Camera systems for Motorhomes Caravans Vans & Trucks > Camos Jewel Camera Systems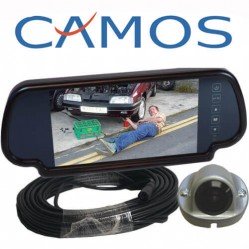 For almost any motorhome, caravan or van with a blind spot at the back, Camos's "Jewel" rear-view camera system is the neatest and most effective way of getting rearward vision, both when driving forward and when reversing.

Up until now, if you wanted to be able to see what was going on behind your vehicle when driving normally and when reversing, the only options were a camera with either twin lenses or a motor to change the camera's viewing angle. Neither system is ideal: motorised cameras tend to be expensive and can fail, while twin-lens models are either expensive or clunky looking and of poor quality.
"Jewel" systems change views depending on whether the vehicle is in a forward or reverse gear and yet only have one lens and no moving parts. They're very discreet and, being made by Camos, you can be assured that they are very well made and will last for many years. How do they work? Ingenious software is how and the results are amazing.
There's a choice of 4 different monitors for "Jewel systems", 3 are dash-mounted and there's a 7" mirror-mounted model. If you wanty to connect a Jewel camera to a radio head unit, we have an adaptor cable which will allow you to do just that. Whichever combination you choose, you'll get a high quality rear-view camera system which can be very neatly installed and which looks great on your motorhome. The price is right too!


Adria have installed Camos camera cables in all their "C" class and "A" class motorhomes (except for models in the Sun Living range) since 2015. This means that, if you want a Jewel camera system or any other Camos camera system, you don't need to buy the cable and installation is much easier and quicker.
On the right you can see the cable connections for all Camos Jewel camera systems.
Recent Reviews
Camos Jewel Plus V2 Camera 13M Cable & 7" Mirror Monitor
I contacted RoadPro to have my existing rear view camera replaced and fitted on my Motorhome with a Camos Jewel V2 and mirror monitor. Due to lockdown, this took some time and a couple of forced cancelled appointments, but as soon as they were able, the job was completed a few weeks ago. I have to say that I am absolutely delighted, not only with this piece of equipment which is brilliant, but also with the level of service and help I received, particularly from Allen Jenner, and the rest of the staff to get the camera fitted. I would certainly use them again and happily recommend RoadPro as a company to deal with! Lester Selmes.
Sign up to our newsletter