Camera systems for Motorhomes Caravans Vans & Trucks > Camos Jewel Camera Systems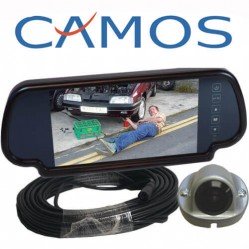 For almost any motorhome, caravan or van with a blind spot at the back, Camos's "Jewel" rear-view camera system is the neatest and most effective way of getting rearward vision, both when driving forward and when reversing.

Up until now, if you wanted to be able to see what was going on behind your vehicle when driving normally and when reversing, the only options were a camera with either twin lenses or a motor to change the camera's viewing angle. Neither system is ideal: motorised cameras tend to be expensive and can fail, while twin-lens models are either expensive or clunky looking and of poor quality.
"Jewel" systems change views depending on whether the vehicle is in a forward or reverse gear and yet only have one lens and no moving parts. They're very discreet and, being made by Camos, you can be assured that they are very well made and will last for many years. How do they work? Ingenious software is how and the results are amazing.
There's a choice of 4 different monitors for "Jewel systems", 3 are dash-mounted and there's a 7" mirror-mounted model. If you wanty to connect a Jewel camera to a radio head unit, we have an adaptor cable which will allow you to do just that. Whichever combination you choose, you'll get a high quality rear-view camera system which can be very neatly installed and which looks great on your motorhome. The price is right too!


Adria have installed Camos camera cables in all their "C" class and "A" class motorhomes (except for models in the Sun Living range) since 2015. This means that, if you want a Jewel camera system or any other Camos camera system, you don't need to buy the cable and installation is much easier and quicker.
On the right you can see the cable connections for all Camos Jewel camera systems.
Recent Reviews
Camos Jewel Plus V2 Camera with Cable & 7" Mirror Monitor
Received via email from John Lawrence Bsc MPhil CChem MRSC CSci FCMI FISBL:
I cannot fault the work that was done and the quality of the work and the care by which it was done. But I've come to expect that of RoadpPro as this is not the first time I've had work done. My first van was a Tribute T720 Ford transit based motorhome had a CTEK battery to battery charger rewired properly and an additional Banner Energy Bull battery fitted with a remote monitor. It worked brilliantly allowing us to go paragliding at weekends without electrical hookup on remote sites and was even used by our daughter and fiance to go to Slovenia to a World Paragliding Accuracy Competition and stay in the motorhome.
So we now have a Roller Team Pegaso 740 so without hesitation I entrusted RoadPro to fit a Sterling 60 amp battery to battery charger, a battery monitor and a battery maintainer for the vehicle battery. I then had a RoadPro satellite dish fitted, followed by a Gaslow 2 bottle installation and external BBQ point.
But the highlight was the CAMOS Jewel reversing camera that replaced the awful standard camera that is fitted to the van. It could just have been stuck on the back, but the fitter took time to ensure it fitted in the housing so it looks like it was factory fitted and the quality of the screen us amazing. I can't thank RoadPro enough for having done such a fantastic job. I would recommend them to anyone contemplating ways to improve their motorhome.
5 star rating
Sign up to our newsletter