12V / 24V Products > 12V / 24V Lighting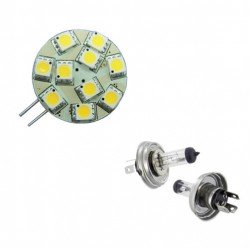 In this category, you'll find all kinds of 12V & 24V lighting products, from replacement 24V bulbs for trucks to complete LED light fittings for motohomes, caravans and boats.
This also where you'll find DRLs (daytime running lights) which can be fitted to most motorhomes and are an essential item of equipment if you're interested in keeping as safe as possible on the road.
Please note that all the products we supply conform to all relevant regulations. Many lighting products on sale on the Internet not only may invalidate your vehicle insurance if you're unfortunate to be involved in an accident but can be dangerous too.
Sign up to our newsletter