12V lead-acid batteries > Green Power AGM batteries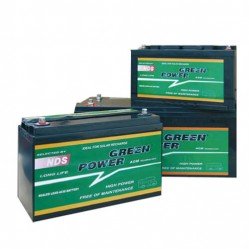 Giving up to 1,200 full cycles and an expected useful life of 4 – 7 years, Green Power AGM batteries have been the best-selling leisure batteries in Italy for years. Specifically developed for use as service / leisure batteries, Green Power models provide all the advantages that AGM (Absorbed Glass Mat) batteries have when used in a motorhome, caravan or boat. Here are some of them:
They are totally sealed against leakage and classed as spill proof.
They can be mounted on their side or end to suit the available space.
Because there are no fumes or gas coming from them, they can be installed safely inside your vehicle or boat.
They do not need to be in a sealed box vented to the outside
Because they have low internal resistance, they can be fully recharged at a lower voltage and accept a larger current which means that they will recharge much more quickly.
They can safely be discharged more deeply than wet lead-acid batteries.
When left unattended, an AGM battery will only discharge at a rate of up to 3% per month and, even when left idle for 12 months, can be brought back to a full charge. A wet lead-acid battery discharges at a rate of up to 4% per week.
AGM batteries were originally developed for military use. They are designed and built to withstand movement, shock and vibration.
Green Power batteries are available in a range of case sizes and Ah capacities to fit almost any application in motorhomes, caravans and boats.
Our model C9416 is factory-fitted in Adria motorhomes.
PLEASE NOTE: WE ARE UNABLE TO SHIP BATTERIES OUTSIDE OF MAINLAND UK